A wonderful litter of PUPPIES is planned for Spring/Summer of 2022
Field, Show, Obedience, Agility, and wonderful pets...
Talent in every venue and looks to match.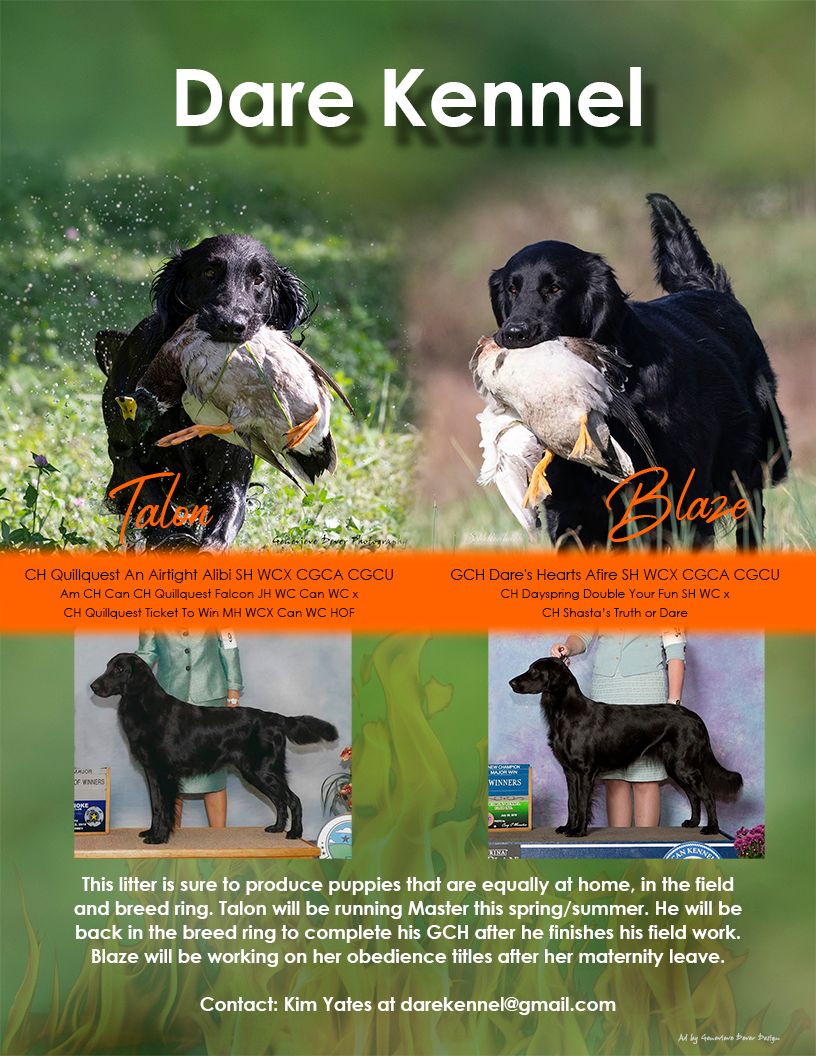 Anticipated May 2022
CH Quillquest An Airtight Alibi SH WC WCX CGCA CGCU
BLAZE is CONFIRMED PREGNANT!!
XRAY shows a large litter! Puppies expected the week of May 22
Talon is a stunning boy. He will completing his Master Hunter in the Spring/Summer of 2022. Talon will go back to the breed ring when he is finished with his field work to complete his Grand Champion title. He is a very biddable dog with a beautiful work ethic.
Blaze finished her championship and Grand Champion easily. She finished both her Championship and junior hunting title within a month of each other. After her first litter she returned to the field to earn her Senior Hunter title. She attained her WC and WCX the same day and on her first attempt. (The next day being the only WCX qualifier). Blaze is a lovely girl who enjoys showing. She looks great doing her job in the field. After this litter she will be heading to the obedience rings.
These puppies should provide talent in the field and stunning looks in the ring. While all of our pups are pets first and foremost, priority will be given to show/performance homes who will allow these pups to attain their potential.    
PLEASE consider adopting one of the Flat Coats that may be available through FCRSA rescue. Visit the FCRSA rescue page. http://www.fcrsainc.org/rescue/index.html

Let's give some older babies a chance for a good home. You can often bypass most of the annoying puppy behaviors!  
Puppies???
This time of year breeders get many inquiries about puppies. 
 Please remember that obtaining a puppy should be a well planned event. It is not a decision that is made quickly and without forethought and planning.
Responsible Flat Coat breeders often have a waiting lists for their puppies. Remember "Good things come to those who wait." Don't be surprised to find that you will have to get on such a list if you are serious about a Flat Coat pup.
Responsible Flat Coat breeders are VERY VERY protective of this wonderful breed. Don't be offended by all the questions we ask. We want to be sure you know what you are getting yourself into and we want to feel safe with the decision we make about where we place our puppies. As responsible breeders we are putting our years of experience, countless hours of work, our reputation, and most importantly our beloved puppies in the hands of our puppy buyers...we want to make sure everyone is comfortable with the choice.
We spend so many hours with our puppies and perspective buyers to learn what the buyer is looking for in a pup and then we match the puppy to the home. Seldom, if ever, do we allow people to "pick" their own pup. We would not want a high energy field dog in a home that was looking for a more laid back pet, nor would we want a laid back pet in a home looking for a more active show dog. We spend time developing a trust between buyer and seller and evaluating our puppies for suitability in their new homes. All pups are temperament tested at 7 weeks and evaluated for working, show potential.
We reserve the right to refuse placement of our pups with anyone at anytime. We will gladly refund deposits if we are not comfortable that we have the right puppy for the buyer. ALL pups are sold with a contract dependent on the nature of the venue for which the pup will be used. 

ALL puppies are micro-chipped with pre-payed registration. Breeder remains as a contact on the microchip number.