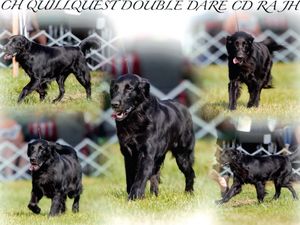 Dee          

Ch Agrebo's Hunter BD CD NA NAJ CDC TDI X Ch. Quillquest Phen's Born to Win CD JH WCX
OFA Information:
Hips FR-3064G32F-PI Good
Elbow FR-EL482F32-PI Normal
Patella FR-PA586/58F/P-P Normal
Not a day goes by without me remembering my dear dear friend.....


If you a REALLY lucky, once in a lifetime a dog will come along and touch not just your heart but your very soul. Dee was that dog.  Besides being my show dog, obedience dog, hunting partner, and therapy dog; the most important title she earned was that of "Best Friend". Her life enriched so many. She served as a therapy dog to autistic children, a reading dog to elementary students, and even played the Easter Bunny a time or two. She taught me so much more than I ever attempted to teach her.

Dee was our foundation bitch. She finished her Championship easily before her first birthday. She finished her obedience in three straight shows with a placing in each. Her hunting titles also came very easily. She had  wonderful talent in the field and iwas a sheer a joy to live with. . Dee produced two wonderful litters. The first time bred to Ch. Sping Valley Moonstone UD MH WCX HOF. This breeding produced our boy Pete. The second breeding was to Dare's Good Will Jubilee. This breeding has produced Major and other very talented multipurpose pups who are tearing up the breed and obedience ring. 

Sadly, hours after placing third in the 11 and over Veteran Sweepstakes at the National Specialty June 2011, Dee had a seizure, from which she never fully recovered (Brain Tumor). We made the heart wrenching decision to allow our special girl to leave this life with the same dignity and peace she lived it. While we are blessed with her children and grandchilden, Dee was our "heartdog" and a piece of our heart went with her. Enoy your bumpers and "dumb kongs" sweet girl. .

Goodbye Dear Friend….enjoy your "dumb" kongs and bumpers until I throw them for you again.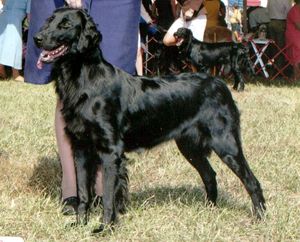 Whiz
Ch Merganser Wildfire Whiz- Bang
(Ch. Fleetwing's Elation X Ch. Hob-B's the Huntress JH WCX) Pure for black

OFA Information:
Hips FR-4031E33F-PI EXCELLENT
Elbow FR-EL1138F33-PI Normal
Patella FR-PA991/33F/S-PI Normal


Whiz was a typey bitch with wonderful length of neck and effortless movement. She was clean coming and going. She finished quickly and won the open bitch class and RWB at the MD Sporting Dog supported entry in 06. Her grace in the ring was matched only by her desire in the field. Whiz was one FAST working girl. She was bred twice. The first time to Dutch, German, Luxembourg and American CH Serilde Qualcosadatenere JH WC. That breeding produced four wonderful pups. One multiple group placing Champion (Drew) and another Champion boy (Cole) and an amazing agility girl (Dare's Always and Fourever AX AXJ) Jordan.

Sadly we lost Whiz to a gastric obstruction when her second litter was four weeks old. Her legacy lives on in the talents of her offspring! We miss her loving personality and her fast tongue.



.