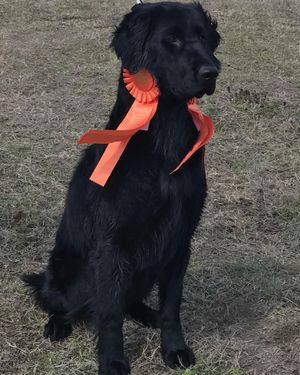 Blaze is an amazing girl. She finished her championship with ease finishing at the supported entry in SC. The following month, she finished her JH title.
She typifies a multipurpose Flat Coat.  While she is unlikely to set land speed records, she works methodically in the field to get the job done with beauty and style.  She loves her people and is equally as happy in your lap as she is in the ring.  She is well muscled with good substance and bone without being overdone. She has a strong topline, gorgeous prow, and well laid back shoulders. 
After her maternity leave, she will return to the breed ring and the field to finish both her Grand champion and her SH title (both of which we had planned to accomplish before Coronavirus canceled all the shows).  
As expected, Blaze has all of her clearances.