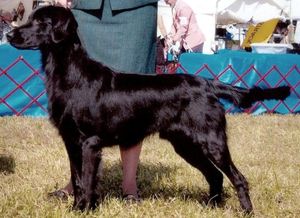 (10 months)
Pete is a moderate dog loaded with drive and boldness. His movement is flawless. He is clean coming and going with great reach and drive on his side gait. He finished undefeated in the classes with four majors...including Best of Breed over specials. He is a joy to show though he much prefers self stacking. His temperament is impeccable. All the boys are routinely let out together without so much as a bad word.
Pete is currently training in the field and his ability is remarkable. He has wonderful natural marking ability. He is fearless in any situation and most determined in his efforts. He is a non stop retriever and should go a long way in this venue.
We are very excited about what Pete has been producing. He is improving heads and substance.  Most importantly he is passing on the talents of his father 
(Stoney)
 and grandfather to his progeny. Pups from his first litter (to CH Banquo's Memphis Belle) are just turning a year old. Several are already major pointed as puppies and are showing great promise in performance events...Murphy (Banquo's Murphy Chimes In RN) just recently placed third in his very first Dock Dog competition and placed 4th in Bred By at the FCRSA National Specialty (the youngest in a class of 16)! Another Pete puppy from this breeding (Banquo's Hellz Bellz) went Best of Opposite in Sweepstakes at the FCRSA National Specialty and made the final cut in regular classes.
Pete is certainly following in his father pawprints in regards to the quality offspring he is producing in regards both beauty, brains and talent. 
Pete's pedigree contains some of the most famous Flat Coats in the history of the breed (both US and Import). The pedigree is loaded with talent in all venues and longevity. These are TRUE multipurpose Flat Coats. 
As expected Pete has all clearances. He is Vetgen tested pure for black. He is available by contract to select bitches. Please contact us with any questions on how Pete can contribute to your breeding program.
Frozen semen is available.
OFA Information:
Hips FR-4063G28M-PI Good
Elbow FR-EL1162M28-PI Normal
Patella FR-PA1017/28M/S-PI Normal
Cerf: Cleared
 What the 2009 Flat Coated Retriever Sociey National Speciality Sweepstakes judge, Sarah Whittaker of Bramatha Kennel, England, said of:   "Banquos's Hellz Bellz" (Pete X Ch Banquo's Memphis Belle):
"This is a very stylish boy of correct type and size, with an excellent moulded head,
pleasing eye colour, shape and placement, with good reach of neck into a well laid
shoulder, nice level top line and tail set. His strong rear enabled him to move with
drive and a looked "a picture" covering the ground."